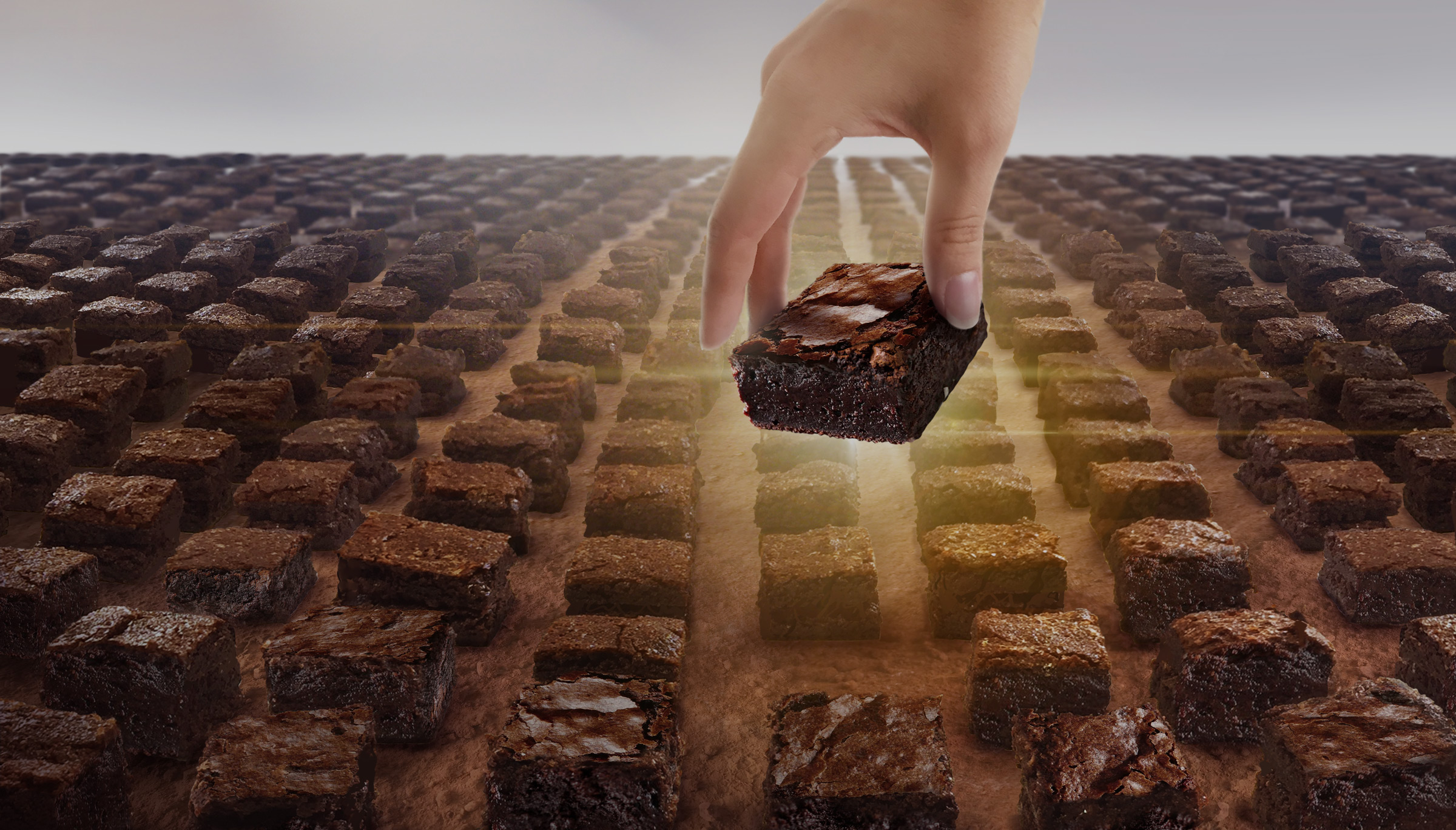 Gerkens® CT70 Cocoa Powder
The chocolatey taste consumers prefer
Discover why consumers prefer baked goods made with Gerkens® CT70 cocoa powder in a blind taste test. Order a sample now!
The chocolatey taste consumers prefer
Gerkens® CT70 cocoa powder is specifically designed for baked goods. Nicknamed 'Boss of the Bakery', it delivers a complete sensorial experience to consumers of baked goods. It offers a unique chocolatey smell and taste in application, as well as an appetizing red-brown color. This makes end-products containing Gerkens® CT70 stand out from the competition.
For baked goods food manufacturers Gerkens® CT70 provides:
Outstanding unique chocolatey smell and taste confirmed by consumers.
An appealing red-brown color that reflects the sensory profile of the powder.
Less complexity when baking – one cocoa powder, two uses: Gerkens® CT70 can be used for both the body of cakes as well as the coating and/or filling, giving a great taste and smell to both.
Premium labelling: next to a low-fat version of Gerkens® CT70, the Cocoa Engineers have developed a high fat version.
A powder with less than 7% alkalizing agents. Assuming no other ingredient in the recipe contains alkalizing agent, then no declaration on the label is needed from that perspective.
Clear winner of the consumer blind tests
As the leading cocoa powder supplier in the world, it is important for Gerkens® to provide a range of customized solutions to fulfill customers' unique needs. To help our customers in the Bakery industry thrive, our Gerkens® Cocoa Engineers reached out to consumers to understand their preferences. Extensive market research was conducted with more than 35,000 consumers in the UK, Germany, Italy, France, Belgium, the Netherlands, Spain, Poland and Turkey - to understand consumers' behaviour towards chocolate generally, and baked goods in particular.

In the baked goods category, cocoa powders are often used to bring color to end products. However, the research identified a need for a cocoa powder that could indulge more of our consumers' senses – not just providing color, but also contributing to taste and smell.
It took the Cocoa Engineers several months of development and many trials. Multiple tasting sessions were conducted with the Gerkens® expert panel, not stopping until each and every one was convinced that the product could help customers stand out by delivering a true chocolate experience, beyond color.

But there is no better judge than the consumer. So in partnership with market research agency Ipsos, consumers were asked to weigh in on Gerkens® CT70.

The results were outstanding!

In blind tests, baked goods made with Gerkens® CT70 were significantly preferred by consumers, especially on taste and smell, in direct comparison with goods baked with some of the best-selling cocoa powders in the bakery industry.
Reach out to our Gerkens Cocoa Engineers to help you create baked goodness for your consumers
Contact Us